Buga Marija Šimić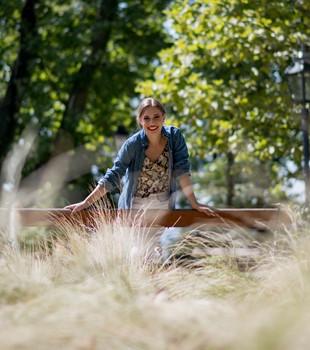 Buga Marija Šimić is a 29 year old Croatian operatic soprano, actress and artistic director of Mala scena theatre. She obtained her MA from Academy of  Music in Zagreb and also finished a MA course in specilized performance – Opera at the University of Applied Sciences in Bern, Switzerland in 2018.
During 2021 Buga received an award for the best actress at the 7th FEDU Festival in Sarajevo, Bosnia and Hercegovina and best performance in performances for children at the 28. "Actor's Festival" in Vinkovci, Croatia for roles in Sun Braidsman and Bride Bridekins directed by Ivica Šimić and written by Ivana Brlić-Mažuranić. She also received the Croatia's Actor's Award for the same role in the category of Best female performance in theatre for children and puppet theatre. In March of 2021 she performed the role of Euridice in Mala scena's filmed production of Orfeo ed Euridice by C.W. Gluck directed by Anja Maksić. In September of 2021 she produced a show called "Aut"- Croatia's first professional show in which a person with a disorder from the autistic spectrum performs. In October Buga started performances in Ninabu - a multisensory, interdisciplinary, interactive show for babies aged 3 months + and their caregivers. As of October she is the executive producer of a concert cycle Classic upside down which she also envisioned - a cycle that will take place the whole season at the Mala scena theatre and that questions and turns upside down prejudices about opera and classical music. In December of 2021 she produced and performed in The Land of the Big Word Factory - a puppet opera based on the picture book of the same name.
2020 saw Ms. Šimić premiere 3 shows at the Mala scena theatre, alongside performing her previously-existing shows. In April she started performing in a mono-show by Ivica Šimić and Marijana Nola - The Story of a Wheel which she took over from her mother - actress and producer Vitomira Lončar. In September of that year, for the first time Buga produced a show for children - Plačko by award-winning author Kristina Gavran and directed by Tina Hofman. In November she was assistant producer and portrayes all roles in Sun Braidsmand and Bride Bridekins directed by Ivica Šimić and in a co-operation with the Museum of the City of Zagreb. Besides that, because of the pandemic, Ms. Šimić alongside Vitomira Lončar and Ivica Šimić created and executed a program for children during the pandemic Mala scena online. It contained 100 days of telling stories to children online, streaming shows live (first in Croatia), lectures for parents and teachers and online creative workshops. The materials from the program were watched over half-milion times.
2019 was an important year for Buga. Butterfly's songs - the first show she was the author of premiered at the Mala scena theatre in January (which was selected for World Duo Performing Arts Festival in Seoul, Korea; Colombo Festival in Sri Lanka and STRUS Festival in Lviv, Ukraine). In March she took over performing The Story of the Cloud from her father - director and actor Ivica Šimić which she performed almost 100 times by now. In September Buga began starring in The Story of the Voice directed by Morana Dolenc, based on Buga's idea and vision. On the 6th of December Mala scena theatre celebrated its 30th birthday with a renawal of the show The Princess and the Pea by Ivica Šimić and Zvjedana Ladika in which Buga portrayes the role of Tina. That day Buga has also officially taken over the position of artistic director of Mala scena theatre from her father. She also won the "The best female voice" award at the"Silk and Road" young artist competiton in Beijing, China.
In 2018 Ms. Šimić obtained her MA in specilized performance - opera at the University of Bern performing the role of Maturina in Gazzaniga's opera Don Giovanni under the baton of Mo. Franco Trinca and directed by Mathias Behrends at the Theater Orchester Biel Solothurn in Biel, Switzerland. At the same theatre she made her professional operatic debut as Arbate in Mozart's opera Mitridate, Re di Ponto under the baton of Mo. P. Gosta and directed by F. Bellotto. After finishing her studies Buga performed the title role in The Rebellious Snowflake by Nina Horvat directed by I. Škuflić and made in a co-production of Mala scena theatre and Tirena Theatre.
During her studies she continued acting in professional theatre productions at Mala scena theatre: the role of Onči in Bum Tomica by S. Šesto directed by L. Vindakijević; the role of The Wind in The Stork and the Fox by Z. Ladika and directed by I. Šimić and the role of Miss Framer in Letice and Lovage by P. Schafer, directed by I. Šimić.
She also participated in several student productions performing in operas from classical repertoire such as Mozart's Le nozze di Figaro (Susanna, Barbarina), Cimarosa's Il Matrimonio segreto (Carolina, Elisetta), Amelia al ballo by. G. Menotti. But she also participated in several interdisciplinary projects created with students of acting and other departments at the University of Bern - Winterreise directed by  Frank Schubert based on the songs of Franz Schubert and L'Europe sauvage devised and directed by Joachim Schloemer.
Ms. Šimić's performing career started at 5 years of age when she performed the role of Sorrow/son in Puccini's Madama Butterfly at the Croatian National Theatre in Zagreb, Croatia. She has performed as a child-actor in 3 movies (Under the line directed by P. Krelja (the role of Klara); The Ghost in the Swamp directed by B. Ištvančić (the role of Aranka); Let it stay between us directed by R. Grlić (the role of Maja)) and 3 theatre shows alongside the afor mentioned one (Invisible Leonard by N. Šerment and directed by I.Šimić at the Mala scena theatre (the role of Maja); Little Red Ridinghood in the City directed by G. Golovko at the Žar ptica theatre (the role of young Little Red); Tonight we improvise by L. Pirandello and directed by Z. Sviben at the Croatian National Theatre (the role of a daughter)).
As a singer, Buga performed with various orchestras such as Zagreb Youth Orchestra, Camerata Zagreb and orchestra of Beeskow International Mesiterkurs. She is the winner of  the first award at the international competition Lazar Jovanovic in Belgrade, Serbia and she also won the Audience Prize at the Lions Grand Prix in Rijeka, Croatia.
When it comes to drama performance, Buga is interested in interdisciplinary work and creating shows for babies and youth. She is currently preparing an interdisciplinary show for teenagers combining physical theatre and opera and wants to create operas for babies. She is interested in pushing the boundaries between art forms, believing that opera is a dramatic art form that can be extremely powerful when combined with drama and dance theatre creating an impactful, poignant and powerful emotional and artistic experience. In the future she would also love to start directing shows for babies and children.
Buga speaks Croatian, English, German, Italian and is learning Spanish. She is also trained in jazz dance, tap dance, hip-hop, can play violin, piano and mouth organ. And most of all, she loves challenges and spreading the beauty and power of theatre to everyone, especially those who don't have acces to it.
October, 2021